Aerial acrobatics is a unique combination of sport and art that helps beginners gain strength and grace in the air. The lessons are also suitable for beginners who have no experience with gymnastics or other sports.
Complete beginners are also welcome for aerial acrobatics classes, who would like to strengthen their bodies while learning something new and unconventional. Aerial acrobatics gives women confidence, femininity, strength and helps them relax after work and forget about their daily worries.
The following can apply:
All adults, with no previous experience with acrobatics or any other sport is required. We adjust the training to make sure everyone can handle it.
All children from 8 years old. If the child has experience with sport behavior, can maintain attention and discipline in training, a younger child can also participate in class. We approach every  request individually.
All children aged 5 to 7 can register for acrobatic gymnastic preparation.
Aerial Acrobatics Center:
The biggest studio in Bratislava with the widest clientele in Slovakia
2 studios in Bratislava
guarantee of own equipment – available 12 silks, 12 hoops
Professional, certified and experienced coaches who have been involved in sports since an early age
two coaches are internationally certified trainers of aerial acrobatics
Built for ideal conditions for aerial acrobatics training
Modern, professional and certified equipment
Newly approved and furnished place
Professional safety matt under every client
The studio has smart technologies
Sensors sensing CO2 with connection to air conditioning, which in the event of an increase in CO2 will automatically increase the performance of air conditioning
Outdoor light-responsive light sensors that automatically adjust the light intensity in the studio
An ozonator that kills viruses, bacteria and mold
Underfloor heating and air condition
Trainings
What training would interest you the most?
JUDr. Monika Šichmák Bočová
Founder of Aerial Acrobatics Center and main coach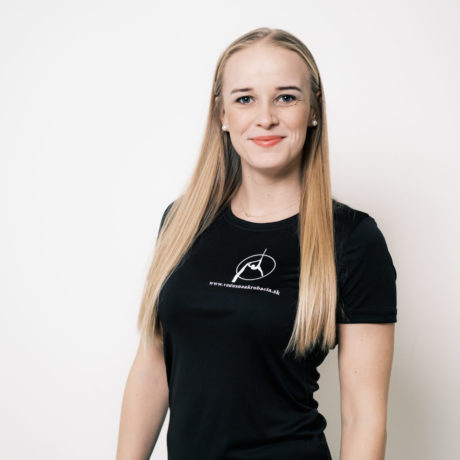 The idea of ​​teaching aerial acrobatics came in 2015, when she decided to open the gate of this beautiful sport and art in one, for public and not only for  professional acrobats /gymnast. Monika wanted to teach the average person to be able to step out own comfort zone, learn to rely on own body, and experience the income of endorphins that comes with aerial acrobatics.
what does our classes look like?