Aerial acrobatics is a unique combination of sport and art that helps beginners gain strength and grace in the air. The lessons are also suitable for beginners who have no experience with gymnastics or other sports.
Complete beginners and non-athletes are also welcome for aerial acrobatics classes, who would like to strengthen their bodies while learning something new and unconventional. Air acrobatics gives women confidence, femininity, strength and helps them relax after work and forget about their daily worries. Children and adults can sign up, regardless of previous sports experience. Aerial acrobatics is suitable for children from 8 years old. If the child has experience with sport behavior, can maintain attention and discipline in training, a younger child can also participate in class. We approach every  request individually. For beginners, no previous experience with acrobatics or any other sport is required. We adjust the training to make sure  everyone can handle it.
In addition to aerial acrobatics, our clients develop their dance skills from a professional dancer with many years of experience, improve flexibility in stretching classes from a ex representative in modern gymnastics and gain strength in workout classes from a certified fitness trainer.
Aerial acrobatic centre:
Built for ideal conditions for aerial acrobatics training
Modern, professional and certified equipment
Newly approved and furnished place
Professional safety matt under every client
Professional, certified and experienced coaches who have been involved in sports since an early age
The head coach is also an internationally certified trainer of aerial acrobatics
Available 12 silks, 12 hoops and 3 flying pole
The studio has smart technologies
Sensors sensing CO2 with connection to air conditioning, which in the event of an increase in CO2 will automatically increase the performance of air conditioning
Outdoor light-responsive light sensors that automatically adjust the light intensity in the studio
An ozonator that kills viruses, bacteria and mold
Underfloor heating in toilets
Monika Bočová
Be part of the awesome community, with the help of our professional trainers, you are one step closer to success.
JUDr. Monika Bočová
Founder of Aerial Acrobatics center and main coach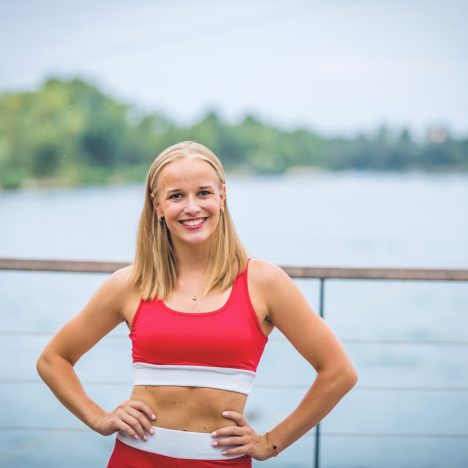 internationally certified acrobatics trainer recognized by American trainers, NASM & AFFA
certified fitness and bodybuilding trainer recognized by the Ministry of Education, Science, Research and Sports of the Slovak Republic
more than 11 years of experience with aerial acrobatics and more than 3000 hours as an instructor in Bratislava
professional acrobat – participates in more than 500 various art performances and events around the world, Qatar, Thailand, Indonesia, Canary Islands, Italy, Spain…
1st place Airy Fairy 2019 – silk professional
nominated for the Ružinov 2019 athlete award
ex-representant in gymnastics,
law degree and obtained a doctorate at Comenius University in Bratislava