The lessons we lead at the Aerial Acrobatics are adapted for everyone, beginners, advanced, adults or children.
As the only one training center in Bratislava, we offer 12 aerial hoops, 12 aerial silks and 2 flying poles in our lessons, for the greatest possible comfort of our clients. In addition to aerial acrobatics, our clients develop their dance skills from a professional dancer with many years of experience, improve flexibility in stretching classes from a representative in modern gymnastics and gain strength in workout classes from a certified fitness trainer.
In November 2020, we opened a new studio for you, which has the most modern and professional equipment precisely adapted to the conditions of aerial acrobatics. In the new studio you will find professional, certified and experienced coaches who have been involved in sports since an early age.
Monika Bočová
Be part of the awesome community, with the help of our professional trainers, you are one step closer to success.
JUDr. Monika Bočová
Founder of Aerial Acrobatics center and main coach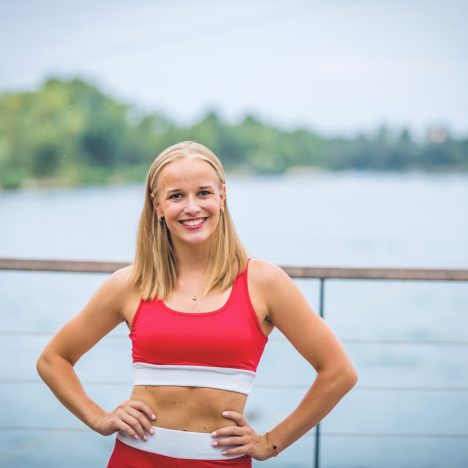 internationally certified acrobatics trainer recognized by American trainers, NASM & AFFA
certified fitness and bodybuilding trainer recognized by the Ministry of Education, Science, Research and Sports of the Slovak Republic
more than 11 years of experience with aerial acrobatics and more than 3000 hours as an instructor in Bratislava
professional acrobat – participates in more than 500 various art performances and events around the world, Qatar, Thailand, Indonesia, Canary Islands, Italy, Spain…
1st place Airy Fairy 2019 – silk professional
nominated for the Ružinov 2019 athlete award
ex-representant in gymnastics,
law degree and obtained a doctorate at Comenius University in Bratislava