Acrobatic hammock – Best Value
Exercise on a hammock is suitable for back pain, joint pain, etc. The hammock exercise is a related to exercises on aerial silk. The main difference is the composition of the material, the width of the silk and the method of attachment. While the aerial silk hangs with the ends downwards, the aerial hammock ends are attached in the ceiling and thus create a letter "U".
You can use the hammock as a strengthening, strength training in the air or as a relaxation tool. Exercising on aerial hammock is very popular even at home or in the garage. It doesn't need high ceilings and lots of space.
Product set include:
2x
 Holder into reinforced ceiling
2x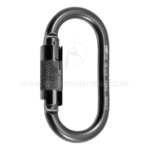 Steel auto lock carabiner
2x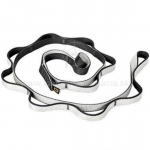 Rope with eyelets
215€ – 339€
Description
Parameters:
Width 2.5 m
Material: Polyester
Soft material
Low flexibility
Pressure in static vertical position max. 1700 kg (3748 lbs)
Calculation correct length of aerial hammock:
Ceiling height (in meters) x 2,1m – Your height from feet to bellybutton – optimal length for full-fledged home training and for professional training.
How to care about aerial hammock:
Suitable for washing in the washing machine in maximum 30 ºC (86 ºF)  at the lowest speed, do not iron, do not use bleach, softener or any dryer – don't dry silk on the direct sun. Use washing detergents suitable for sportswear.
Carabiners, swivel bearings, ceiling mounts and ropes are not included (see products)
The customer is responsible for the correct use, maintenance and rigging of the aerial hammock. Trainings in the air always perform with the presence of mattress
Additional information
| | |
| --- | --- |
| Weight | N/A |
| The length of Hammock silk | 4 m, 5 m, 6 m, 7 m, 8 m, 10 m |
| Farba hammocku | Black, Dark blue, Gray, Kerosene, Light blue, Orange, Pink, Purple, Red, Turquoise, White |